Centre & Site Developments
The CSC Team is reviewing the site's facilities and potential and developing its vision for future development so that we;
Provide high quality development experiences for young people in a fun, creative and challenging environment
Offer high quality programme support and facilities for leaders, youth workers, teachers and other providers
Improve environmental sustainability, protection and education
Maintain an effective role and relationships with key organisations, as well as community groups, services and individuals in the local community
As we prepare to reopen and staff/ volunteers move towards normal working patterns we will share and consult on our plans and aspirations here.
Improvements have started on internal reorganisation, access and insulation and improvements on the main site are imminent; work will run from March 22nd to begin improving group camping facilites and to address traffic and parking issues outlined below.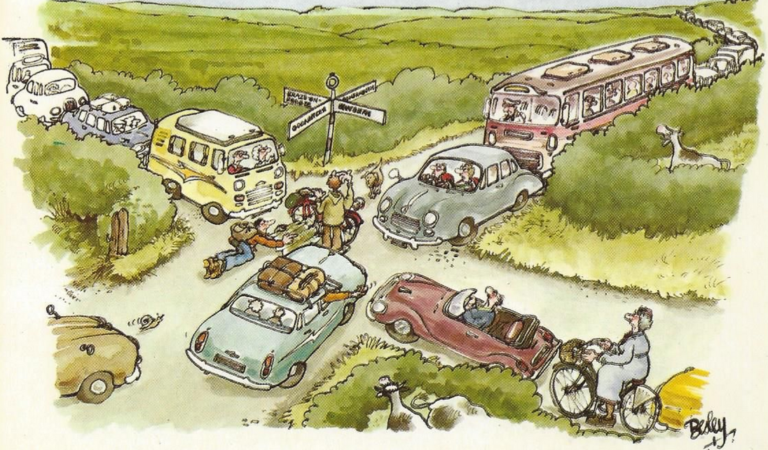 Visitor Traffic Management – Urgent Action
We are pleased and excited to announce that we have consent to make significant changes to improve user access and address the difficulties our neighbours have shared in recent years!  – Pictures below

Background
This introduction is to explain the urgency and to acknowledge the support of our partners, users, the Cranham community and our immediate neighbours.
Over the years the increasing popularity of the centre and changes to coach construction, minibus regulations and safeguarding measures have made the nature and volume of traffic extremely diifucult to manage given our current parking capacity and the narrow, single lane access 'bottlneck'  into and out of the main car park.
At peak times, in spite of exhausting coordination efforts by centre staff and group leaders, traffic tailbacks have stretched several hundred metres in each direction, through traffic has been held up, neighbours have been unable to drive in or out, and indiscrimate visitor parking / drop-offs have blocked or damaged neighbouring frontages and access.
Another major issue is that modern coaches are often bigger than those of old, with plastic trims that skirt the vehicle almost to the ground and fair badly against the building and bank leading to the car park. For groups arriving by coach we have faced several issues with increasing frequency because coach drivers struggle or refuse to negotiate access to our main car park;
Those who will risk driving in to the main car park have all too often manouvred off the driveway onto our grass area or adjacent neighbours' land and access. Those who arrive in several coachloads and park on the road create extra work and safety issues as we hold coaches back up the hill, manage through traffic and move dozens of youngsters laden with luggage along the road to and from the centre. At worst the least cooperative companies and drivers have been known to block the road for over half an hour with three parked coaches in a row.
The Good News!
We are increasing our parking capacity, creating a permanent layout for long stay, short stay and drop-off control, and after a lengthy process to gain permissions we will be widening the car park access to allow two way traffic flow, removing the bottleneck and allowing safe easy access for coaches.
Making changes to a Site of Special Scientific Interest (SSSI) is quite rightly a well regulated area under the Wildlife & Countryside Act 1981; our car park access and adjoining grass area are within the designated boundary of this Cotswold Common & Beachwood SSSI.
We are pleased to say that thanks to the wonderful support of the Birchall family, Bill Ayers – Birchall Estate Manager and Natural England local and Regional we have Unconditional Consent to make those changes in line with the information and commitments we have provided.
The 'Photoshop' images below give a rough 'before and after' impression of the access and an aerial viw of the area in question.
Further detail of the site parking arrangements and updates on progress will be posted in the fullness of time. For any queries or further information please contact us.